no one noticed for a month.
Yesterday, they snuck in another, slightly more obvious shot. But the frame is still focused on a different car, with the real news lurking in shadow (literally) out of focus.
The two photos, both posted to Instagram, are big news to enthusiasts. It has to do with a reborn trend – fast versions of cheap cars – that seems set to make 2022 fun.
The First Photo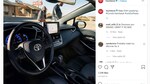 October's post was ostensibly an advertisement for the Toyota Corolla hatchback. There's nothing unusual about Toyota advertising one of its cars. But there's nothing particularly new about the Corolla hatchback. So, few people took notice of a run-of-the-mill shot of its interior. Then, in late November, users on a Toyota enthusiast forum noticed something.
There, just to the right of the side mirror – see that? It's another Corolla hatchback, this time wrapped in camouflage, tearing down a dirt road. And the digital clock display in the foreground, which you can barely see through the spokes of the steering wheel, reads "G: 16." That will matter in a moment.
The climate control, meanwhile, is set to 2 degrees for the driver and 68 for the passenger – hidden messages in a doctored photo.
The Second Photo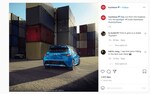 Yesterday's shot is, again, pretending to be an ad for the rather pedestrian Corolla hatchback. It's pictured in a shipping yard surrounded by some of those shipping containers we've all heard so much about in the news this month.
Just off to its left, between two stacks of containers, is that camouflaged Corolla again. Lurking like a wildcat sneaking up on the unsuspecting sensible hatchback in the center of the photo.
One of those containers reads "NA G16 GR FOUR." G16 again. Okay, what's going on here?
The Toyota GR Corolla
Americans get a decent Corolla. It's a practical answer to a lot of practical problems. In hatchback form, it offers bulletproof reliability and lots of usable space for a reasonable price. It's dependable, affordable transportation, which is why the Corolla nameplate is history's best-selling car by a considerable distance.
But overseas, there's a fun one, too.
The GR Corolla is a hot hatch – a high-performance version of Toyota's most sensible car. It was developed by Toyota's Gazoo Racing unit (hence, GR) for rally racing, But it is sold in small numbers at Toyota dealerships in Japan.
It uses an engine Toyota calls the G16 (ah, now we get it).  It's a 1.6-liter, turbocharged 3-cylinder engine that puts out 268 horsepower (remember the temperature settings?)
"GR FOUR" could refer to the fact that the GR Corolla is all-wheel-drive.  In Japan, it comes with a 6-speed stick and more ground clearance than the standard Corolla. And "NA"? North America, we hope.
What it Means
Toyota has never sold a GR Corolla in the U.S. But many automakers are bringing out performance versions of their compact cars in 2022. Honda has two on the way, the Civic Si and Civic Type R. Hyundai just released its own, the Elantra N. Subaru is resurrecting its WRX performance compact. And VW is bringing back its Golf R next year.
So these hidden messages are almost certainly telling us that the U.S. is getting a GR Corolla in 2022. Everyone else is doing it. Toyota is going to compete.
Some of those models don't have prices yet. But three do. The Civic Si starts at $27,300. The Elantra N starts at $31,900. The Golf R is the most expensive of the group, at $43,645.
It seems reasonable to expect the GR Corolla to slot into the low end of that range.
We'll know more, we assume, when Toyota continues pretending not to market this car. We expect a teaser photo with the camouflaged hot hatch submerged underwater about to lurch out at a peacefully sleeping Corolla. Semaphore flags on a ship in the background will likely reveal the price.
Class of 2022: All the New and Redesigned Cars, Trucks, and SUVs
Publicity photos are intended to generate publicity. At least, that's how you'd think it works. But Toyota is being cheeky with its marketing for an upcoming new car. In October, they released a publicity photo with some Easter eggs about a new car that